Spiritual Life
'In working with young people,
do not try to call them back to where they were
and do not call them to where you are,
beautiful as that place may seem to you.
You must have the courage to go with them
to a place neither you nor they have been before.'
V. J. Donovan
St Paul's School for Girls is a community of prayer. We start each day with an assembly or prayer service.
Celebration of the Eucharist
A very important part of life at St Paul's is the celebration of Mass. We come together as a community for Mass at important times such as the beginning and end of the school year, Christmas, our patronal feast and holy days of obligation. We also hold Masses in community languages for our Polish and Filipino girls and their families.
We also have a year-group Mass on Tuesday mornings, where every class in the school has an opportunity to prepare the Mass and to pray for particular intentions and needs. In addition, we have further voluntary Mass during Lent.
Exposition of the Blessed Sacrament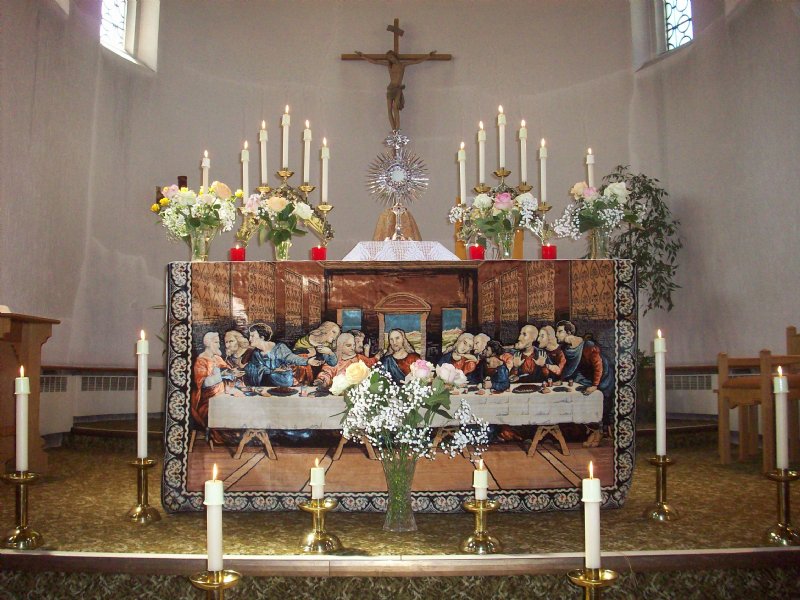 We have a programme of Benediction on the First Friday of every month.
Every year, we have a day of 'Exposition and Benediction'. Usually it happens on the feast of the Sacred Heart of Jesus. Every class is timetabled for a 20 minute experience but staff and students are also welcome at break and lunchtime.
We also follow the 'Light Fever' prayer tradition which we first experienced following our Sion Community school mission in 2014/15.
May Devotions to Our Lady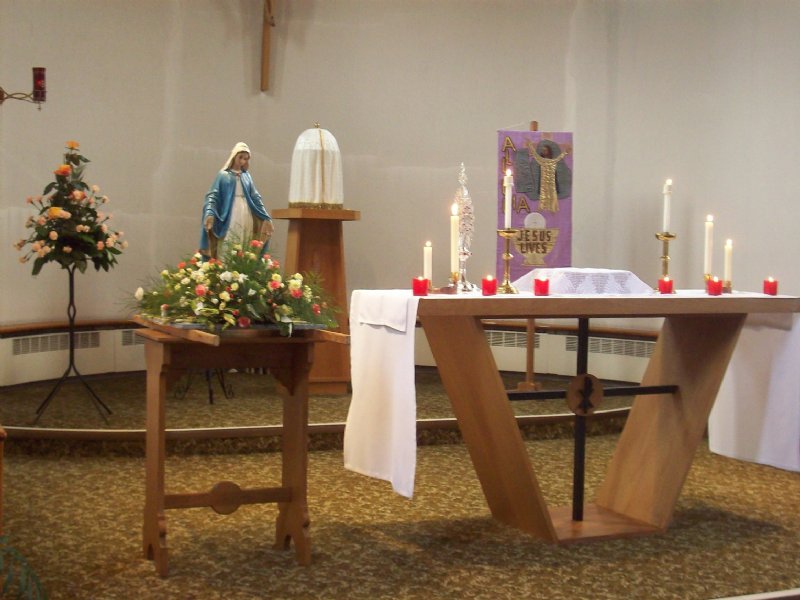 For each day in May, we have short reflections about Our Lady, organised by the Chaplaincy team. This is an opportunity to learn more about Mary and also to appreciate what a great role model she is for us today. Year 7 students all participate in our May Procession, when the statue of Our Lady is crowned with flowers in the Chapel before being processed around the school as we sing Marian hymns.
In October, we say the Rosary every lunch time.
Retreats
Each year group has a retreat in school every year. There are also residential retreats at Savio House, The Briars and Soli House. These offer them 'time out' from everyday pressures to deepen their relationship with God and others. It gives them time to think about their lives, to build self-confidence and tackle some of the concerns they face. Every year the experience greatly benefits every girl who takes part. They are led by a team of young people to grow as individuals and to reflect on their own lives and faith commitment by taking part in a variety of activities. These include teamwork games, walks in the beautiful countryside, large and small group work, prayer services and Mass, and usually even a disco!
Students who have been on retreat say:
"Savio House was an amazing experience and I learnt a lot. Church was different in a more exciting way, I especially loved the leaders as they made the trip so much fun and light hearted. I recommend going to anyone!"
"I first went to Soli in January and really enjoyed the experience. I got so much out of it! All the team were very welcoming and all the activities were most enjoyable. I was surprised that I especially enjoyed the prayer times. I recommend anyone with the chance to go to Savio House to take it!"
Reconciliation
At retreats there are opportunities for girls to receive the sacrament of reconciliation. We are grateful to the many priests who readily give up whole or half days to hear the girls' confession.
Pilgrimages
Each year the girls in Year 7 are offered the opportunity of a pilgrimage to Lourdes. We also offer other opportunities for visits to places of pilgrimage including Ephesus and Rome.
Our school prayer to St Paul
Pray for us St Paul, our patron, that we may be united in spirit and truth, that we may live in peace and that the God of peace and love may dwell with us.
Amen.