Our School
Our Ofsted Report and RE Inspection Document can be downloaded via the link at the bottom of this page.
Please click here to access the DfE School Performance Tables for Key Stage 4.
Please click here for Parent View parentview.ofsted.gov.uk/
About St Paul
The major feast days of St Paul are 25 January (the anniversary of his conversion) and 29 June (the feast of St Peter and St Paul). St Peter and St Paul are considered to be two great saints and have been honoured on this day since the third century.
St Paul, originally known as Saul of Tarsus, was educated in Jerusalem by a Pharisee, and became a Pharisee himself. He was involved in the persecution of Christians and was present at the stoning of St Stephen. This was all to change on the road to Damascus, when the sky flashed and a voice asked him 'Saul, Saul, why do you persecute me?'. It was the voice of Jesus, who instructed him to continue to Damascus, where he was to learn his destiny. Paul was blinded by the brilliance of the light and had to be led the rest of the way. When he reached Damascus, he met Ananias, who told him to recover his sight – immediately Paul could see. Ananias told Paul that he was to be baptised without delay, and go on to preach the news of Jesus to all men.
From this moment, St Paul became a fervent apostle of Jesus. He travelled to Jerusalem, Antioch and through Asia Minor converting gentiles to Christianity. He wrote letters of love and support to the Corinthians, Ephesians, Galatians and Romans, which are still read today.
St Paul suffered great adversity during this time. He was shipwrecked, beaten and imprisoned. Having been imprisoned in Rome, he was then beheaded on the Ostian Way, where his burial place is honoured.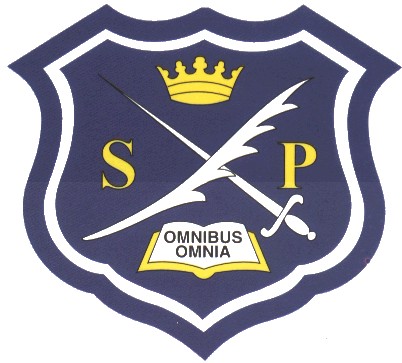 The school badge has reference to the life of St Paul.
The sword signifies his martyrdom.
The quill shows he was a writer.
The book represents his Epistles.
The crown reflects his sainthood.
Our School Motto
Omnibus omnia: be all things to all people
Our School Hymn
St Paul Great Teacher, show us how to live.
And draw our hearts to thee in Heaven above.
While here thro' veils may faith perceive the light.
And love alone reign with her splendour bright,
Love like the sun e'er reign in splendour bright.
All honour, power, eternal jubilee.
To God in essence, one in persons three.
To Him whom all things governs here below,
Be now and ever while the ages flow,
Be now and ever while unending ages flow.
Our School Prayer to St Paul
Pray for us St Paul, our patron, that we may be united in spirit and truth, that we may live in peace and that the God of peace and love may dwell with us.
Amen.