Special Educational Needs and Disability (SEND)                                                                                                                     
Welcome to St Paul's School for Girls where the gifts and talents of all girls are nurtured and celebrated. God created each of us to be unique - "a one of a kind" masterpiece! The learning support department equips girls to become independent, confident and successful young ladies; to fulfil their vocation from God.
Many girls may need additional support through their learning journey; the information below aims to answer questions you may have about this support.
The Birmingham Authority Local Offer
The SEND Code of Practice 2014 Parent and Carer Guide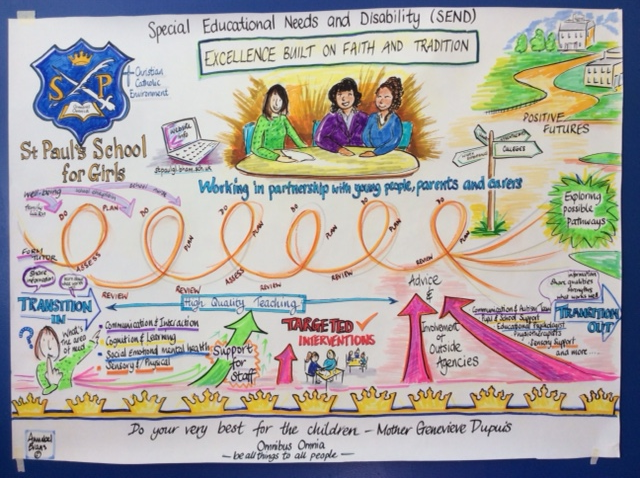 What kinds of Special Educational Needs and Disability ( SEND) are provided for at St Paul's?
We follow the 2014 Code of Practice which outlines support for young people in four broad areas.
Cognition and learning - where children and young people learn at a slower pace than others their age,have difficulty in understanding parts of the curriculum, have difficulties with organisation and memory skills, or have a specific difficulty affecting one particular part of their learning performance such as in literacy or numeracy.
Specific learning difficulties (SpLD), affect one or more specific aspects of learning. This encompasses a range of conditions such as dyslexia, dyscalculia and dyspraxia.
Sensory and physical - children and young people with visual and/or hearing impairments, or a physical need that means they must have additional ongoing support and equipment. Some children and young people may have SEN that covers more than one of these areas.
Communication and interaction - where children and young people have speech, language and communication difficulties which make it difficult for them to make sense of language or to understand how to communicate effectively and appropriately with others.
Children and young people with Autism are likely to have particular difficulties with social interaction. They may also experience difficulties with language, communication, social interaction and imagination, which can impact on how they relate to others.
Social, Emotional and Mental Health - children and young people may experience a wide range of social and emotional difficulties which manifest themselves in many ways. These may include becoming withdrawn or isolated, as well as displaying challenging, disruptive or disturbing behaviour. These behaviours may reflect underlying mental health difficulties such as anxiety or depression, self-harming, substance misuse, eating disorders or physical symptoms that are medically unexplained. Other children and young people may have disorders such as attention deficit disorder, attention deficit hyperactive disorder or attachment disorder.
Examples of support are outlined in this information.
How does St Paul's know if my daughter needs extra help?
We know when a pupil needs help if-
Concerns are raised by parents, carers, pupils, teachers, outside agencies and the pupil's previous school/s

Limited or less than expected progress which is evidenced through school monitoring despite quality first teaching.

Below expected prior attainment

Baseline data shows gaps in learning.

Individual assessments for either cognition and learning needs or social and emotional needs.
What should I do if I think my daughter may have special educational needs or a disability?
Talk to her form tutor and or Head of Year who will then inform the SENCO, Miss Davies.
How will I know St Paul's supports my daughter?
Individual learning logs are used to give a profile of additional needs

Each pupil's learning log will be written jointly by the pupil, parent, form tutor and SENCO. The learning log will outline specific strategies used by subject teachers to support your daughter through quality first teaching. Targets will be set for your daughter and recorded here. Additional equipment/resources e.g. a laptop will also be included on this document

If your daughter has needs related to a more specific area of their education, such as spelling, handwriting, numeracy, language difficulties etc. then your daughter may be supported through focused small group/individual work. Again this support would be recorded on your daughter's learning log

Interventions are recorded on a whole school provision map which is a document outlining additional support. The impact of interventions is recorded separately

The school has access to specialist support services and we would work in partnership with you to make a referral if appropriate.
How will the curriculum be matched to my daughter's needs?
All pupils receive quality first teaching which is differentiated and personalised.

If additional support is required following consultation with you it may be felt that a Pupil Progress and Intervention Assistant (PIP) may be deployed to work with your daughter on a 1:1 basis or in a small focused group

Your daughter will be taught in an appropriate ability group for English and Maths lessons. The progress of each pupil is monitored and these groupings are reviewed regularly

Specialist equipment may be used by pupils to enable full, independent access to the curriculum e.g. Laptops with CLARO or reading pens.

Consideration will be given of withdrawal from Modern Foreign Language if your daughter has a specific literacy need.
How will I know if my daughter is making progress?
A monitoring sheet of your daughter's progress is sent home termly

Parents' evening for your daughter is an opportunity to discuss progress with subject staff. However, you can contact individual teachers by calling the school office who will arrange a time for this discussion.

Learning log reviews will take place termly and you will be invited to attend.

Annual reports are sent out at the end of an academic year.

Positive and negative behaviour logs are recorded and shared with parents via FireFly.
How can I help St Paul's to support my daughter's learning?
During Parents' evening individual subject teachers will suggest support strategies for you to access at home.

During each learning log review ideas to support you daughter will be explained and modelled

Curriculum booklets for year groups will offer opportunities for you to discuss new topics with your daughter.

Curriculum content is shared via Firefly with parents and pupils.
Outside agencies may offer ideas to support your daughter both in school and at home.
What support will there be for my daughter's well-being?
St Paul's offers a wide variety of pastoral support for those pupils who are experiencing emotional, social and mental health difficulties

Form Tutors meet with all pupils twice daily and are always available to offer support and will refer pupils to their Head of Year whenever necessary.

Mrs Canavan has overall responsibility for pastoral care and meets with girls regularly.

Pupils can be referred to Mrs Arnold Morgan the lay School Chaplin or Mrs Liddall who is the Family Liaison worker. Support here can take the form of listening, signposting pupils to sources of help or involving outside agencies.

Miss Scotcher is the school councillor who is available to meet with any pupil on an appointment basis.

There is a nurture group which supports pupils with emotional differences.

The School nurse is available to pupils on an appointment basis.

Small group self-esteem support.
What specialist support and services are accessed by St Paul's?
Sensory support including teachers of the deaf, teachers of the blind and mobility specialists

The Communication and Autism Team.

Pupil and School support( cognition and learning)

Speech and Language therapist

A specialist teacher for dyslexia

Educational Psychologist

Forward Thinking Birmingham( Child and Adolescent Mental Health Service)

Paediatricians

School Nurse

Social services

Careers

Counsellors where appropriate.
What training have the staff had or are receiving?
All staff have received training related to SEND. This training has included-
How to support pupils with a diagnosis of autism

How to support pupils with language and literacy difficulties

How to support pupils with dyslexia

How to support pupils with visual or hearing impairment

The Speech and Language therapist offers advice to staff to support the development of language

Ongoing support and training from the SENCO.
The effectiveness of SEND provision is reviewed annually and this informs future staff training needs.
How will my daughter be involved in activities outside the classroom, including school trips?
Best endeavours will be made to enable all pupils to access all activities and trips.
Risk assessments are carried out and procedures are put in place to allow all students to participate in activities

If additional adult support is required for an activity then parents would be consulted and support put in place for that child.

If a girl has transport provided through the local authority the school will discuss alternative provision with parents.
How accessible is the school environment?
As a school we are happy to discuss individual access requirements. However, St Paul's was built in 1908 and we can only make reasonable adjustments in sympathy with the historical nature of the building.
How will St Paul's prepare and support my daughter when joining or transferring to a new school or post-16 provision?
Year 6 Transition
Miss Randell Year 7 coordinator, the Senior Leadership team and Miss Davies the SENCO visit Primary schools to meet with new students in the term before joining St Paul's

Pupils visit school for a transition day in July and many girls visit through Primary events such as retreat days

Pupils with specific needs may visit St Paul's for a series of sessions before the Year 6 Transition day

Mid-year Transition

Mrs Canavan Assistant Headteacher coordinates pupil admissions during the academic year. Pupils will have the support of a 'buddy' within their tutor group, the support of their form tutor and Head of Year

Information shared about any additional needs of pupils with staff.

Transition to post 16 provision or university

Girls in Year 10 with SEND are invited to join a lunchtime sixth form options club. The girls visit colleges for taster days and explore what courses are available to them

The girls are supported to complete application forms

Girls with a Statement or an EHCP receive guidance from a careers advisor prior to their annual reviews.

Girls are supported through additional transition days if they decide to move to a new setting for their 6th form studies.

Girls in Year 12 and 13 are supported through the UCAS application process

Girls are signposted to support services within universities and colleges.
How are the school's resources allocated and matched to children's special educational needs?
There is a notional SEND budget which is allocated to St Paul's school each financial year. This money is used to provide additional support and resources according to individual pupil needs

Additional support or resources may be allocated to your daughter following an assessment by the SENCO or following the recommendation of an outside agency

Funding may be used for specialist support e.g. Speech and Language therapy

Pupil Premium money may also be used to support your daughter's learning where appropriate.
How is the decision made about what additional support my daughter will receive?
All pupils are supported primarily through quality first teaching

If a pupil makes less than expected progress additional support to help close the gaps is put in place. This support may be through targeted interventions or on a 1:1 basis or in a small group

Parents will be notified of any additional support which their daughter receives

The decision regarding support is jointly taken by form teachers, subject teachers, Head of Year and the SENCO.
How will I be involved in discussions about and planning for my daughter's education?
During Parents evenings

During discussions with teachers

During termly learning log reviews
What do I do if I have a complaint about the provision offered to my daughter?
As a school we encourage regular, open and honest conversations between staff, parents/careers and the girls. If you are unhappy about the provision made for your daughter:
Contact Miss Davies the SENCO, Miss Allan the Deputy Head Teacher or Dr Casserly the Headteacher who will work collaboratively with families to resolves any difficulties

If you still have concerns contact Mrs Hodgson the SEND governor.
If you wish to discuss your daughter's learning further please contact:
Your daughter's Head of Year and form teacher
Miss Davies, the SENCO - hdavies@stpaulgl.bham.sch.uk
Mrs Hodgson, the SEND Governor, via the school office 0121 454 0895 or enquiry@stpaulgl.bham.sch.uk
Glossary of key terms
FTB- Forward Thinking Birmingham
SENCO- Special Educational Needs Coordinator
SEND- Special Educational Needs and Disability
SpLD- Specific Learning Difficulty e.g. dyslexia
UCAS- University and Colleges Admissions Service
Reviewed November 2016: by parents, pupils, staff and SEND governor.
Meet the Special Educational Needs and Disability (SEND) team
Miss Helen Davies
Miss Davies
is the Special Educational Needs Coordinator (SENCO). Miss Davies co-ordinates provision for pupils with additional needs and is happy to answer any questions parents may have. She can be contacted via the school office or via email:
hdavies@stpaulgl.bham.sch.uk
Miss Davies likes shopping for shoes, sweets and her dog called Muffin.
Miss Young
Miss Young is a Pupil Intervention and Progress Assistant or PIP. Miss Young works with groups of children and 1:1 in many different lessons including Maths, English and Science.
Mrs Piggott
Mrs Piggott is a Pupil Intervention and Progress Assistant or PIP. Miss Young works with groups of children and 1:1 in many different lessons including Maths, English and Science.
Miss Djukic
Miss Djukic is a Pupil Intervention and Progress Assistant or PIP. Miss Djukic works with groups of children and 1:1 in many different lessons including Maths, English and Science.
Mrs Trish Campbell
Mrs Campbell has been part of the SEN team since 2002. Some of her responsibilities are to deliver the Word Shark and SULP courses, both of which are very rewarding and liked by the pupils. Mrs Campbell is a working mum of two and prides herself on giving every student the chance of achieving their very best. She likes holidays in America and handbag shopping.
Miss Kathryn Sowter
Miss Sowter takes groups for English intervention lessons and delivers Sound Training in KS3. She has groups doing other English skills, particularly Reciprocal Reading, and revision skills. She also delivers weekly Y12/13 A level tutorials. Her main interests are reading and Arts generally, TV cookery programmes and Sam, her very affectionate black cat.