School Direct
School Direct is a programme where schools or partnership of schools apply for trainee teacher places. This means that schools can choose the teacher training provider they wish to work with. Schools recruit the trainees they want, and if possible the trainees will go on to teach in their school, or another school in their partnership, once qualified.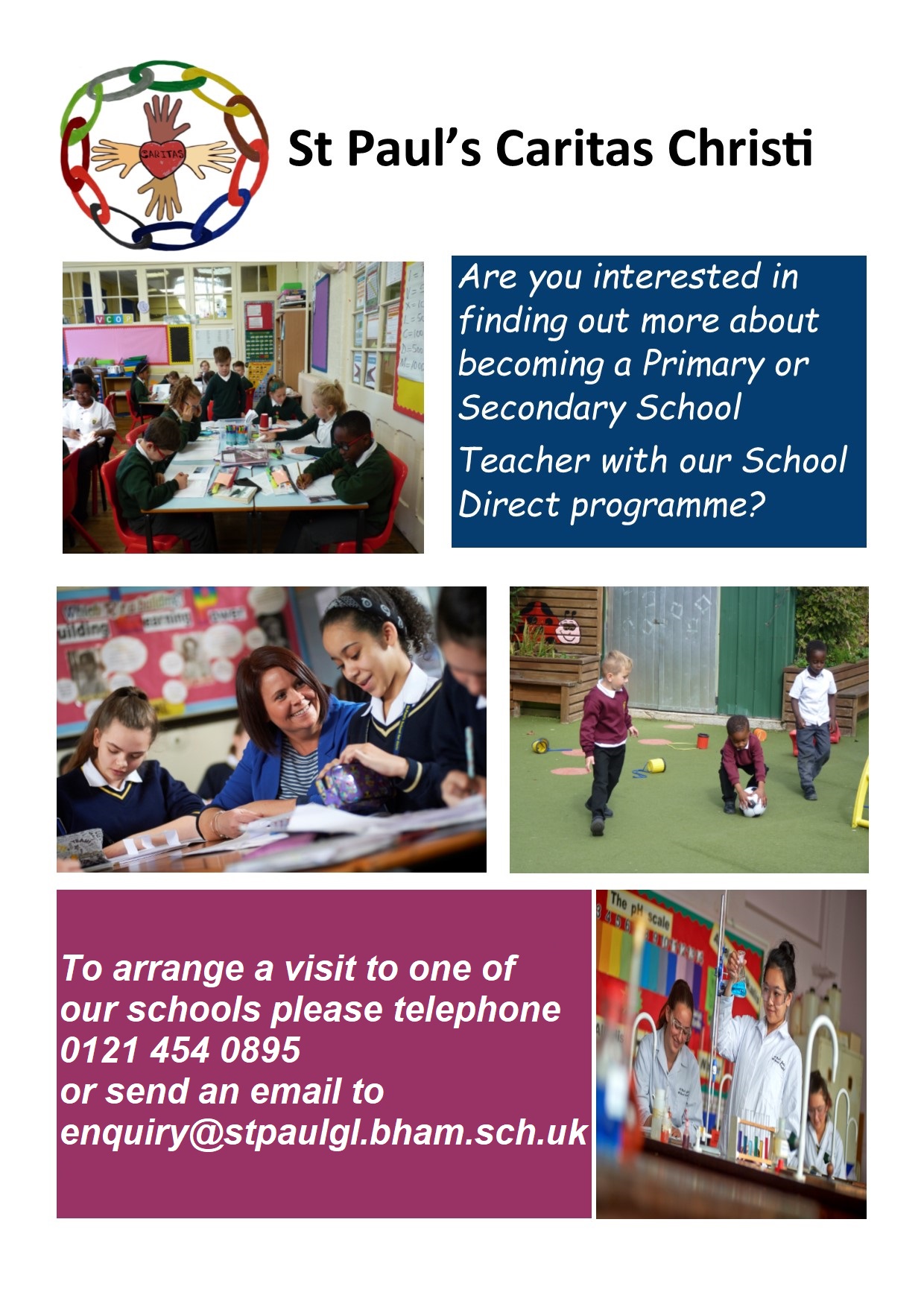 How do I complete my application for School Direct?
Applications for teacher training courses starting in 2023 open on 11 October, but there is plenty you can be doing right now to get ready! https://getintoteaching.education.gov.uk/blog/getting-ready-to-apply
Apply for teacher training through the following website: www.gov.uk/apply-for-teacher-training
Email: enquiry@stpaulgl.bham.sch.uk
You can select 3 choices at the same time for any route into teaching. Once your application is submitted training providers have 40 working days to make a decision and inform you. If interested, providers will call you for interview so be prepared to have 3 full interviews in this period. You then have 10 days to make a decision whether to accept one of the offers or not.
School Direct (salaried) is an employment-based route for high quality graduates, typically with at least three years' experience of transferable work history. You'll earn a salary while you train towards your Qualified Teacher Status (QTS) recommendation, and won't need to pay any tuition fees. Students who opt for a School Direct (salaried) training programme are employed as an unqualified teacher while they learn on the job. In some cases, this may be a school the student is already working at, or has an existing relationship with. Salaried places depend on schools having vacancies and will open and close during the year.
Your personal statement
There is a single application form for all of your choices and this includes a personal statement. This is your opportunity to let your chosen training providers know about your qualities, skills and expertise and why you want to be a teacher.
You can only make one personal statement for all the choices you make. You can't change it or do different ones for University or school-based choices. The providers you're applying to understand this, so they won't be expecting you to say specific things about them or their programmes. However, if you're applying for programmes in a particular subject or age group, it would be helpful to explain why you have chosen them and the skills and attributes you have that make them appropriate for you.
What to include in the personal statements:
You do need to think carefully about the things that all your chosen providers will want to know about you. You'll probably want to include things like:
Your reasons for wanting to teach
Evidence that you understand the rewards and challenges of teaching
Details of your previous education and how you have benefitted from it
Experience of teaching such as visits to schools, classroom observation or working as a teaching assistant
Any other work with young people such as helping with a youth club, working at a summer camp or running a sports team
The range of relevant abilities and skills you can bring to teaching, for example, practical experience, managing people, working with or leading a team and communication skills
Any reasons why there may be restrictions on your geographical mobility
Why you want to study in the UK if you don't currently live here

These are the things all training providers want to know whether they're School Direct, a university or a SCITT so there's no need to worry that you can't write different personal statements.
Do NOT copy
Do not copy anyone else's personal statement or from statements posted on the internet. Make sure your personal statement is all your own work.
What information is needed to support my application?
Two references are needed. One academic and one professional i.e. someone that can comment on your suitability for teaching. If applying for the salaried route one reference would be from an employer. Ask the referees as soon as possible to make sure that they are willing to give us an online reference, as paper copies are not allowed. Applications cannot be submitted to us until the references have been obtained.
If you have international qualifications you need to obtain a Statement of Comparability from NARIC. This can take some time, so you are advised to start the process before you submit your application.

If your degree does not closely link to your chosen teaching subject, you are advised to take a subject knowledge enhancement course (SKE) before starting teacher training.