School Direct
School Direct is a programme where schools or partnership of schools apply for trainee teacher places. This means that schools can choose the teacher training provider they wish to work with. Schools recruit the trainees they want, and if possible the trainees will go on to teach in their school, or another school in their partnership, once qualified.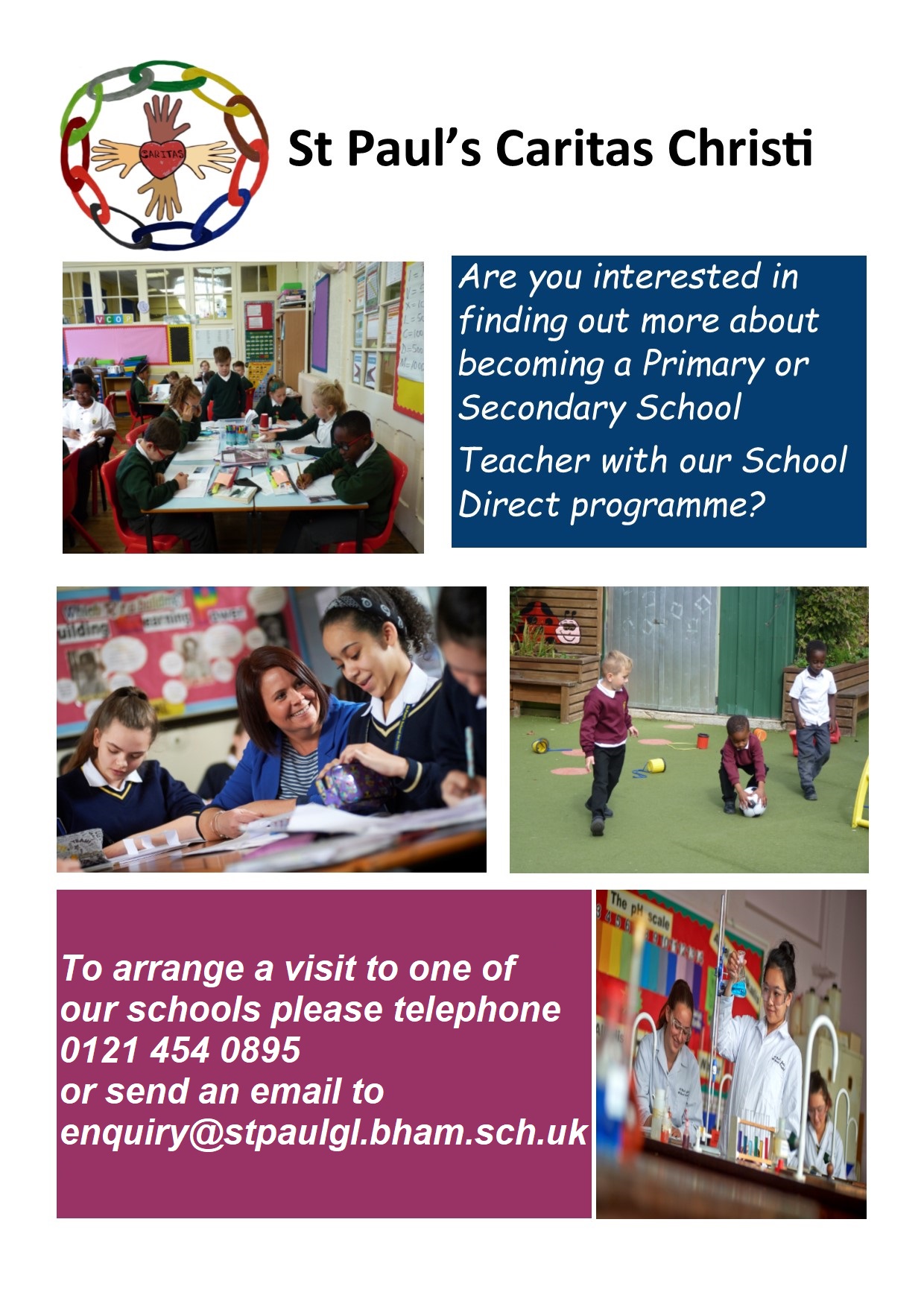 ---
How do I complete my application for School Direct?
Filling in your application www.ucas.com
Please read the advice below provided by UCAS:
Apply online
You make your application in our online system Apply.
 There's quite a bit to fill in but you don't need to do it all at once – you can save and log back in any time.
 We'll give you an overview here of what you need to do. There's more detailed help text within the Apply system which gives you step by step advice.
 For courses in Wales you can make your application in the Welsh language.
1. First you register to use Apply.
Here you put things like your name, address and date of birth.
 You'll also need to accept the terms and conditions.
 You'll need a username which is the email address you've given us and you create your own password.
 Then you'll receive a personal ID.
We ask you to sign and agree to a declaration that we and training providers can process and keep a copy of your application to collect data and detect and prevent fraud. You can request a copy of the information we hold. We make a small charge to cover administration costs.

2. Then log in to fill in the rest of your personal details.
The information you've already filled in will show up automatically.
 Then you'll give some information like nationality and residential status.
 If you've got a disability we'll want to know about that so that training providers can make any adjustments you need.
 Since you'll be working with children we'll need to know you agree to a Disclosure and Barring check or if you have any criminal convictions.
3. Some additional info (UK applicants only)
Here we ask about your national identity and ethnic origin. It isn't used for selection but it's very helpful for analysis.

4. Then you add your programme choices.
How many choices you can make depends on whether you're in Apply 1 or Apply 2.
 You use Apply 1 first and you can make up to three choices.
 In Apply 2 you make one choice at a time, but you'll only use Apply 2 if you aren't holding a place from Apply 1.
 You can only choose a programme that's showing it has vacancies when you send in your application – you'll need to check on the online search tool whether programmes have vacancies.
5. Your education so far.
Here you'll tell us about your secondary and higher education and the qualifications you've achieved so far or expect to achieve before the training programme begins.
 First tell us about your GCSEs and A levels or equivalent qualifications – particularly your GCSEs in English and maths, and in science if you're applying for primary teacher training. Some providers will only consider applicants with appropriately graded GCSEs or equivalent in these subjects. Some will consider you if you expect to achieve them before you start the programme, and others may offer an equivalency test. Providers normally state their entry requirements in our teacher training programme search tool, as well as on their own websites. Contact them if you're not sure if your qualifications are the equivalent of GCSEs.
 Then you need to tell us about your degree. Training providers need to know about the subjects you've studied and about the classification of degree you've got or expect to get.
 We'll also ask you to select the highest qualification you have or expect to achieve before the training programme begins.
 If you've got qualifications from outside of the UK, you'll need to get a statement of comparability from NARIC. This can take some time so you should do this before you send in your application.

6. Your school and work experience.
In this section you should list school and work experience.
 Include school names, addresses, start/ finish dates and total time spent in each school.
 Similarly for work experience or paid employment – include the company name, role, start/ finish dates and whether the role was full or part time.
 If you can't fit all your jobs in, give the most recent.
 If you want to give more information about school or work experience include it in your personal statement.
 Training providers may be particularly interested in work you've done in a school, but all paid work is relevant.
7. Then you write your personal statement.
This is your chance to show training providers why you want to be a teacher and why you'd make a great one.
You can only write one personal statement for all your choices so it's important to make it as good as you can.

8. Then you get two references.
You can't send in your application until two references are attached to it.
 You give the names and contact details of the two people you have chosen and we ask them to provide a reference.
 We let you know when each reference has been received but you won't be able to see them.
 We give referees two weeks to do this – if they take longer than that, we'll send them a reminder and let you know.
There'll always be some delay while you wait for references to be completed and you must bear this in mind when you're deciding when to make your application.

9. Now you pay your fee and send in your application.
You must pay the administration fee, whether you have made one, two or three choices in Apply 1. This also covers any choices you make in Apply 2.
You pay online using a debit or credit card which doesn't need to be in your name but you must have permission to use it.

10. What if you want to make a change to your application?
If you change your mind and want to change one or more of your choices you can do this.
However
 You can do this only once.
 You must do it within seven days of sending in your application.
Your personal statement
There is a single application form for all of your choices and this includes a personal statement. This is your opportunity to let your chosen training providers know about your qualities, skills and expertise and why you want to be a teacher.
You can only make one personal statement for all the choices you make in both Apply 1 and Apply 2. You can't change it or do different ones for University or school-based choices. The providers you're applying to understand this, so they won't be expecting you to say specific things about them or their programmes. However, if you're applying for programmes in a particular subject or age group, it would be helpful to explain why you have chosen them and the skills and attributes you have that make them appropriate for you.
What to include in the personal statements:
You do need to think carefully about the things that all your chosen providers will want to know about you. You'll probably want to include things like:
 Your reasons for wanting to teach
 Evidence that you understand the rewards and challenges of teaching
 Details of your previous education and how you have benefitted from it
 Experience of teaching such as visits to schools, classroom observation or working as a teaching assistant
 Any other work with young people such as helping with a youth club, working at a summer camp or running a sports team
 The range of relevant abilities and skills you can bring to teaching, for example, practical experience, managing people, working with or leading a team and communication skills
 Any reasons why there may be restrictions on your geographical mobility
 Why you want to study in the UK if you don't currently live here
 Whether you've taken part in the School Experience Programme (SEP) or Primary Experience Programme (PEP) organised by the National College of School Leadership
These are the things all training providers want to know whether they're School Direct, a university or a SCITT so there's no need to worry that you can't write different personal statements.
How to write the personal statement
You can use up to 4,000 characters or 47 lines of text (including spaces). Some word processing packages calculate character and line counts differently from the UCAS Teacher Training system does, so you might need to redraft your statement if there's a discrepancy between the counts.
 Write in English (or Welsh if you're applying to Welsh providers) and avoid italics, bold or underlining.
 Get the grammar and punctuation right and re-draft your statement until you're happy with it.
 It's a good idea to write your statement first then copy and paste it into your application.
Don't copy
Don't copy anyone else's personal statement or from statements posted on the internet. Make sure your personal statement is all your own work.
We screen all personal statements across our Copycatch similarity detection system. If we find any similarity, your application will be flagged, you and all your choices will receive an email alert and this could have serious consequences for your application.
What information is needed to support my application?
 Two references are needed. One academic and one professional i.e. someone that can comment on your suitability for teaching. If applying for the salaried route one reference would be from an employer. Ask the referees as soon as possible to make sure that they are willing to give us an online reference as paper copies are not allowed. Applications cannot be submitted to us until the references have been obtained.
 If you have international qualifications you need to obtain a Statement of Comparability from NARIC. This can take some time, so you are advised to start the process before you submit your application.
 If your degree does not closely link to your chosen teaching subject, you are advised to take a subject knowledge enhancement course (SKE) before starting teacher training. These are only available in a few subjects: maths, chemistry, physics, languages, computing or design and technology.