Reading
'Of the subjects taught in school, reading is the first among equals – the most singular in importance because all others rely on it. Excellence in almost any academic subject requires strong reading.'
Reading Reconsidered, D. Lemov, C. Driggs and E. Woolway (2016)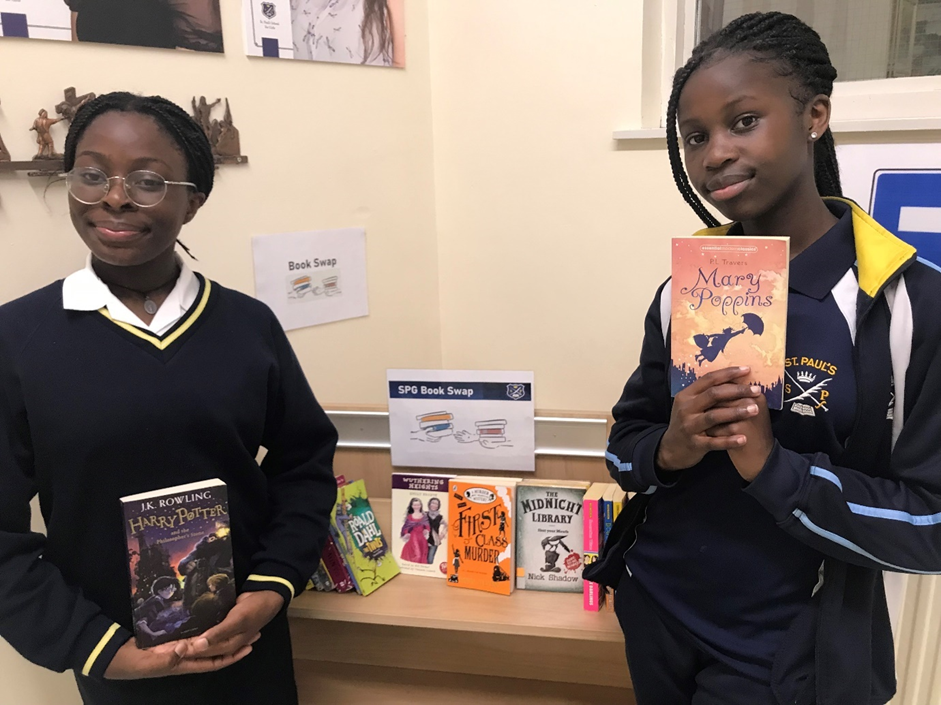 SPG Book Swap is in reception. Everyone is encouraged to bring in books they have read in exchange for a new book to read!
Everything we do aims for excellence so that pupils achieve the best possible personal and academic standards, which includes encouraging a love of reading. Our curriculum at St Paul's already emphasises the importance of reading, for example, dedicated reading time in KS3 English lessons, the importance and value of disciplinary literacy in all subject areas and DEAR, so well established, enjoyed by pupils and teachers alike.
Our library has always been a vital part of our school community and throughout the year, there are numerous competitions and events, culminating in the celebration on World Book Day. We have invested in new Reading Canons for pupils in KS3, 4 and 5 following extensive pupil and teacher voice. Reading ambassadors have been recruited from Year 8, 9 and 10 to participate in the Reader Leader Programme, learn librarianship skills and co-ordinate the Book Swap and Reading Wall Book Reviews.
A reminder of the benefits of reading for pleasure:
Correlation between reading engagement and reading attainment
Vocabulary
General knowledge
Understanding of grammar
Spelling skills
A link to both improved attainment and more positive attitudes to writing
Mathematical skill
Effect on wider academic performance
Develop empathy for others
Develop understanding of emotions and vocabulary to discuss these
Promote a better understanding of the world
Develop their self and social identities
Some of our reading ambassadors enjoying the reading nook.
Sullivan and Brown found that the impact of reading for pleasure on progress in vocabulary, arithmetic and spelling between 10 and 16 years old was four times greater than the impact of a parent having a degree.
Sullivan, A. and Brown, M. (2013)
Please see the Parental Advice and the latest KS3&4 reading newsletter