Careers
Providing high quality impartial careers guidance that supports pupils to make well-informed, aspirational decisions about their future.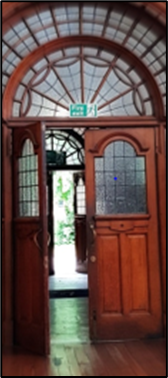 Careers Co-ordinator, Miss Ria Pellowe: [email protected] (maternity leave)
Careers Adviser: [email protected]
Careers Lead, Mrs Polly Rigg: [email protected]
Please contact the school office 0121 454 0895
St Paul's School for Girls strives to present, the highest quality of teaching and learning across our entire curriculum. Each girl is encouraged and stimulated to aim for excellence and thus achieve the best possible personal and academic standards. The diversity and richness of contribution from all members of the school community, in promoting and upholding all-round high standards are highly valued.
In our vocation as teachers, we do our very best for the children, fostering high standards of teaching and learning, nurturing pastoral care and spiritual and moral guidance of the girls. We work with students, parents, guardians and other key partners to enable all of our students to face the future with confidence in their personal qualities and achievements. We want to do our very best to ensure that we are able to support all of our students in being equipped to respond positively to the changing needs of society by enabling them to, briefly experience, think about, develop and prepare for future careers or their continued education. Our approach is presented in our policy and active careers curriculum plan.
Our conscientious, determined and expert staff are still highly committed to the words of Mother Genevieve Dupuis: "do your very best for the children". In their vocation as teachers, they do their very best for the children, fostering high standards of teaching and learning, nurturing pastoral care and spiritual and moral guidance of the girls. This commitment extends to our responsibility to ensure that every pupil experiences and are able to take advantage of active and impartial Careers Education, Information, Advice and Guidance throughout all stages of their education. At St Paul's we adopt and are continue to embed a whole school approach to the future careers of all of our pupils. All staff across the Key Stages are fully engaged in the successful delivery of our careers education curriculum policy, alongside stimulating whole school careers activity programmes, delivered in partnership.
We use the Gatsby Benchmarks to regularly evaluate our Careers Curriculum and decide on the necessary action, including staff CPD. Our current ratings can be seen below:
| | | |
| --- | --- | --- |
| Benchmark | Description | % |
| 1 | A stable careers programme | 100 |
| 2 | Learning from career and labour market information | 100 |
| 3 | Addressing the needs of each pupil | 100 |
| 4 | Linking curriculum learning to careers | 100 |
| 5 | Encounters with employers and employees | 100 |
| 6 | Experiences of workplaces | 100 |
| 7 | Encounters with further and higher education | 100 |
| 8 | Personal Guidance | 75 |
Students
As a student at St Pauls, you will experience our Careers Curriculum through many different avenues. You will regularly have Careers focused assemblies and there are many opportunities within PSHRE to focus on Careers. You will also experience Careers opportunities through your subjects to ensure you can see the different paths that they may lead to. We aim to make the most of external speakers and also utilise the expertise of Old Girls. We value your views and every year you are asked to give your feedback on our Careers curriculum, we use this feedback to influence the next years plan. There are lots of amazing opportunities out there to help with your Careers guidance and we keep you up to date on these via the Careers/Upcoming Events section on Firefly. All students have access to Unifrog and are encouraged to use it throughout our Careers curriculum, it provides an invaluable resource to do with all things Careers based.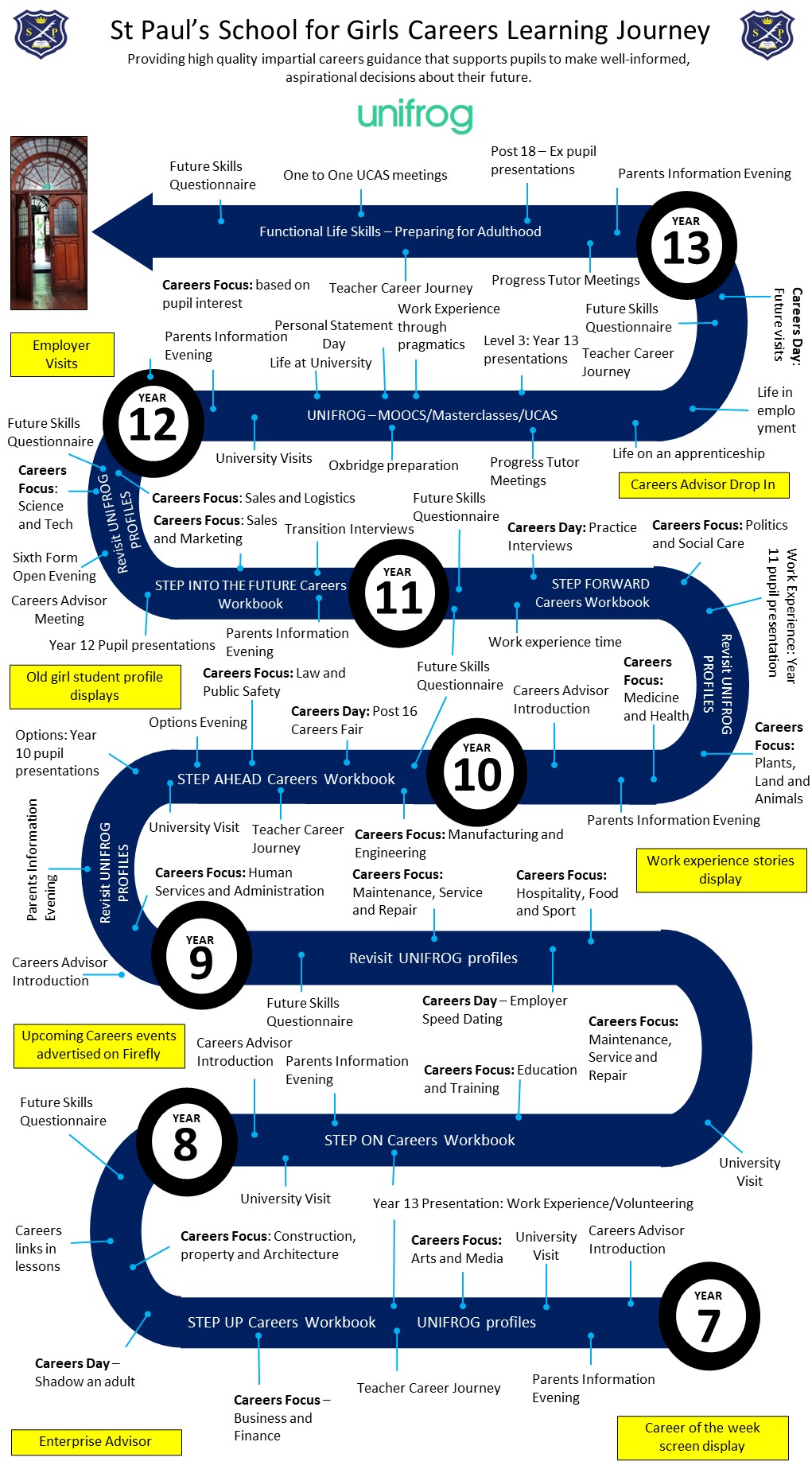 Parents
As a parent of a St Paul's girl, we would encourage you to talk to your daughter about her future as much as possible. There are times that we will actively involve you in these discussions e.g. Open Evening but the more these discussions happen the more prepared students are when they have to make decisions. If you would like assistance, then please remember that your daughter has access to Unifrog which you can be certain gives you reliable information. On Firefly, in the Careers section, you can see upcoming events that may be valuable for your daughter to get involved in.
Just like for your daughter, each year we will ask for your feedback on our Careers Curriculum. If you feel that you could make a contribution to our Careers Curriculum then we would really appreciate you getting in contact, we have many opportunities e.g. Careers Day and they don't have to be face to face.
Employers
St Paul's School for Girls welcomes employer input into the curriculum as this inspires our students and helps them to learn about the world of work.
There are many opportunities to get involved, including:
Providing inspirational careers talks.
Participating in our Careers Day
Running workshops e.g. employability skills, CVs, mock interviews.
Offering work experience/work shadowing opportunities.
Running business challenges and enterprise competitions.
Mentoring students.
If you feel that you would be able to enhance our curriculum, then please get in touch.
Useful Links
https://www.bep.education/wp-content/uploads/2018/05/Edgbaston-Profile-Schools.pdf - Birmingham Education Partnership Edgbaston Schools Profile
Unifrog - The universal destinations platform
Careermap - CareerMag for Parents, Carers & Guardians
Speakers for Schools - Virtual Work Experience
Springpod - Virtual Work Experience search
icould - Career ideas and information for your future
Young Professionals - UK AND IRELAND'S LEADING STUDENT NETWORK
National Careers Service - Provides careers information, advice and guidance
BBC Bitesize - Explaining the world of work
Firefly upcoming events - Firefly upcoming events
Careers & Enterprise Resource Directory - Benchmark 4 resources
Amazing Apprenticships - Leading organisation in the education sector
MYPATH - Careers Education, Done Differently (YouTube)
What's the Point? - Careers Education (YouTube)
Careerpilot - Information and tools you need to explore your future career
StartProfile - Helping you to make better choices
Prospects - Experts in graduate careers
apprenticeships.gov.uk - HM Government apprenticeships
UCAS - UCAS helps to inspire and empower people to make aspirational choices about higher education and learning
Discover Uni - Official source of information about higher education
AllAboutSchoolLeavers - Help school leavers get jobs and understand the career paths available to them
BirdgeU - Unlocking better higher education outcomes for international students
Careers Box - Careers films on the web
SuccessatSchool.org - The place for young people to explore careers
how2become - Career Interviews, & Assessments Made Easy
Not Going to Uni - Alternatives to the standard university route
Russell Group - Represents 24 leading UK universities
LMI for All - The LMI for All portal provides high quality, reliable labour market information (LMI) to inform careers decisions
The LMI Careerometer can be used to explore and compare key information about occupations, help you learn about different occupations and identify potential careers.
Simply type in the title of the job you are interested in and the widget provides a series of options from which you can select the most relevant to you. You can then look up another occupation and compare. You can also select 'display the UK average' and compare the information with the occupation you have selected.