1990
On into the 90s and the school's ninth decade. In 1990 we said 'Goodbye' to Sr Agnes – but she began a whole new connection for the school with Romania. A former pupil – another member of staff today – tells us how much the girls loved Sr Agnes, despite her sometimes formidable presence. Her memory is of the staff pantomime, which featured every fairy tale they could think of: "At the end of this pantomime, masked kidnappers appeared at each door of the New Hall and Sr Agnes was stolen away, only to be returned when the ransom demand had been paid. I remember everyone turning out their pockets and doing their bit to make sure Sr. Agnes was safely returned to us.
Then we said 'Hello' to Sr Thérèse. As far as we know Sister has no connection with any firm of builders or architects but once she came, we certainly got used to a new style of hat around the school. We now have state-of-the-art Science Labs, Drama Rooms and Technology Rooms. We have a wonderful suite of Computer Rooms for Information Technology and Business Studies. I wonder what those girls of 1908, who watched the ladies and gentlemen arriving in their carriages that October morning would think of it all? Yet, in spite of the changes there is one thing we think they would recognise -–the spirit of St Paul that binds the community together.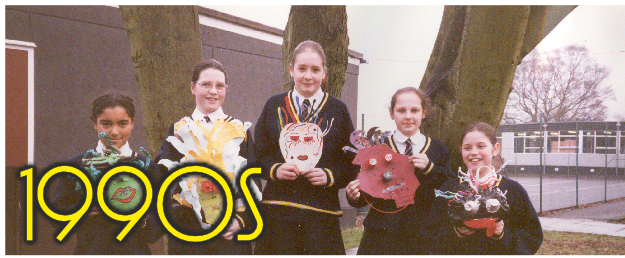 In December 1998, Sr Thérèse left St Paul's to become the Generalate of St Paul's community. Miss Mary Holland was Headteacher for one term until Miss Angela Whelan took the reins at Easter 1999. Together with all the staff we have seen the school gain specialist status, a new building, an accolade as an outstanding school and a wonderful celebration of its centenary in 2008.
And what is that spirit that, through all the ups and downs of the life of the school, has somehow or other permeated the 90 years of its existence? I think we need to look at our patron, St. Paul, and see what he says. In one of his most famous letters he wrote: "Love is patient; love is kind; love is not envious or boastful or arrogant or rude. It does not insist on its own way; it is not irritable or resentful; it does not rejoice in wrongdoing, but rejoices in the truth. It bears all things, believes all things, hopes for all things, endures all things. Love never ends."