Beauty and the Beast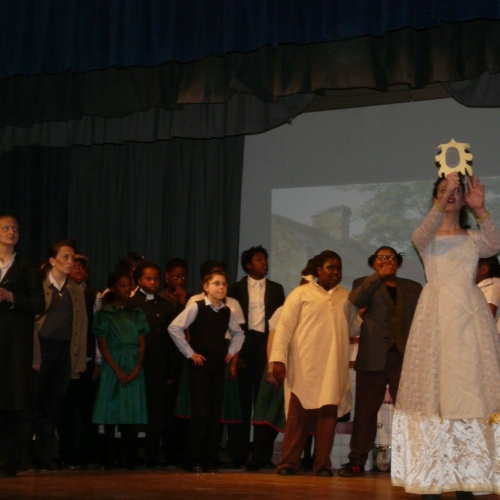 Saint Paul's School for Girls performed Beauty and the Beast from 6th to 9th July 2016.
The journey from the 'Beast' to 'Beauty' took four months of after-school rehearsals, nearly 200 students both in performance and backstage including sound engineers, costume and set design, props hair and make up. Early workshops helped students to understand their characters and develop voice, movement and gesture that would bring them alive in performance.
Such fabulous humour between the vain, arrogant Gaston and his "desperate to please" sidekick Lefou. The "silly girls" throwing themselves at Gaston's feet in a desperate bid to marry him! Memorable performances from the comedy double act Lumiere and Cogsworth with a sprinkling of French "Oo La La" from Babette. The enchanting Mrs Potts and her chirpy son Chip balanced against a truly operatic diva in Madame La Grande Bouche. Maurice, the eccentric inventor, who looked terrified when attacked by a pack of superbly choreographed wolves!
A disturbingly dark performance (excuse the pun) from Monsieur D'Arque as head of the lunatic asylum.
Villagers villagers everywhere both on stage, in the aisle and amongst the audience! We were invited with great enthusiasm to "be our guest". The ensemble worked well together especially when changing the mood as they stormed the castle to "kill the beast" and then met with a series of amusing encounters with enchanted knives forks and spoons!
The iconic musical score was superbly delivered in a polished and professional performance by the 10 student and 3 staff orchestra.
Finally, Belle and the Beast (played by a year 9 and year 11 student respectively) really stole the show. The beast skilfully transformed himself from bitter and hardhearted to a sensitive and loving Prince. There was not a dry eye in the house with his rendition of "if I can't love her" at the end of act one. Belle captivated audiences with her gentle and moving performance. She certainly brought everyone's favourite Disney film alive.
Beauty and the Beast was performed to 800 people over four shows and will be remembered for its enchantingly humorous and polished performances, fabulous singing, stunning costumes and set, dynamic make up and hair design, slick set changes and 100% energy and commitment from everyone involved.
It may have started as a BEAST but soon developed into a BEAUTY.