Mid Summer Night's Dream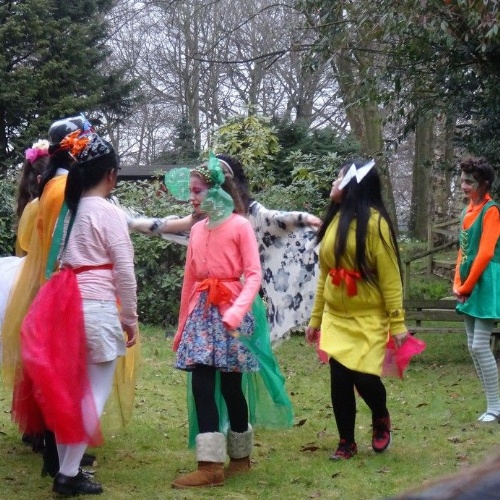 Maybe not a Midsummer night (rather the middle of March) but certainly a DREAM.
On a chilly evening 15/16 March an Athenian wood was created as Shakespeare came alive in the convent garden of St Pauls School for Girls.
Students from Year 7 to Year 13 celebrated national Shakespeare week with a magical open air performance of Midsummer Night's Dream to an audience of parents, sisters and staff.
As part of the RSC (Royal Shakespeare Company) recognition of the 400th year anniversary of the death of Shakespeare, the RSC invited schools to apply for and join "the Dream Team". So, St Paul's School for Girls was part of a growing number of schools to present their version of Midsummer Night's Dream.
At the heart of the RSC dream team "is a belief that the process of rehearsing and making theatre can help young people to experience Shakespeare's plays in a new and exciting way". This production allowed students to co-direct, so taking ownership of the text and exploring the fabulous language in many imaginative ways-
The mechanicals falling, stumbling and laughing their way with great humour through a play within a play!
Powerful Oberon and ethereal Titania with their train of naughty 80s inspired punk fairies wearing imaginative recycled head dresses and jewellery.
Magnificent performances from the nobles in the court of Theseus and moving and sensitive character portrayals from the four lovers whose emotions were confused due to the mischievous antics of Puck.
Improvised music accompanied the performance throughout – Mr Tom Brooks on piano with Petiya on French horn and percussion.
It was a DREAM indeed, a truly rewarding process which resulted in a moving and humorous performance. The only thing that could have made it better would have been a warning Irish coffee!