St Paul's Caritas Christi Schools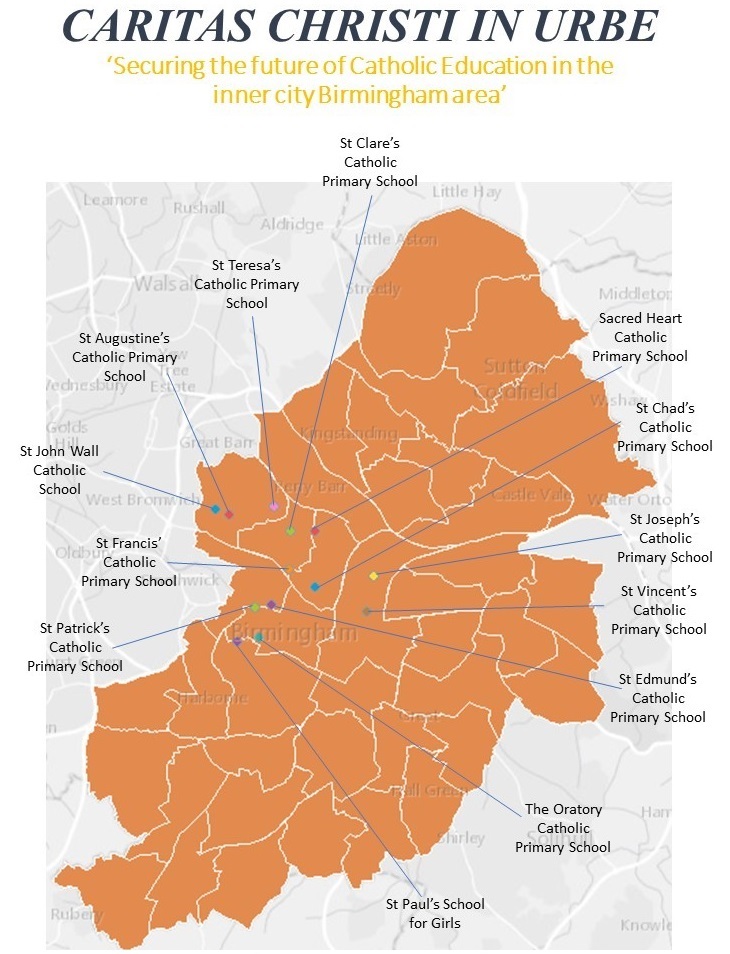 St Augustine's Catholic Primary School
Headteacher: Mrs Stanley
Avenue Road
Handsworth
Birmingham
B21 8ED
0121 554 5069
St Augustine's Catholic Primary is a one form entry school plus 52 part time place Nursery (26 FTE) situated in the inner city suburb of Handsworth. Our Mission Statement, "As one family working together to be the best that we can be, we live, love and learn with Jesus", is at the centre of all that we do. Our school community is enriched by children from a wide variety of cultural backgrounds and beliefs. 90% of pupils are baptised Catholics.
In our recent Ofsted inspection in April 2017 the school was judged to be securely good in all areas and described as "a vibrant, purposeful place in which to learn, underpinned by its strong, distinctive Catholic ethos". All groups of pupils are supported to make good progress and enjoy learning during their time in our special school family.
---
St Chad's Catholic Primary School
Mr Tehan
Hospital Street
Newtown
Birmingham
B19 3XD
0121 464 6554
We are in the Newtown area, close to the city centre. We were moved from RI to 'Good' at our last Ofsted inspection in May 2015. Our RE inspection was also rated as 'good'. Our mission statement is: "At St Chad's, we grow in the light of Christ, to share in his love and reflect the gospel values". We are a school determined to overcome the many barriers to learning that our learning community faces and we believe that we can make a real difference through our hard work; the deprivation factor, the fact that the majority of our children have English as a second language; many of our children are 'newly arrived' and need help to settle in England, not just to school. 90% of our children are Christian and nearly 60% are baptised Catholics.
---
St Clare's Catholic Primary School
Headteacher: Mrs Rivett
Robert Road
Handsworth
Birmingham
B20 3RT
0121 554 3289
St Clare's Catholic Primary is a two-form entry school with 450 children in our main school and 26 part-time nursery children. The school is situated in Handsworth and is in the parish of St Francis' Church. We have a diverse school population with 47% of children eligible for pupil premium and 30+ languages spoken across the school.
At St Clare's we welcome everyone and we are proud of our 'School of sanctuary' status which confirms the good work that all involved in our school community do to support and care for each other and for families who are new to the city of Birmingham. As our school mission says we work hard to encourage the children to' ' live, love and learn together in the light and example of the life of Christ.'.
---
St Edmund's Catholic Primary School
Headteacher: Mrs O'Friel
Rosebery Street
Springhill
Birmingham
B18 7PA
0121 523 7274
St Edmund's Catholic Primary School is situated in Springhill, in inner city Birmingham. We serve a diverse and dynamic community and our children come from a range of ethnic heritages. "The school has a harmonious, positive and welcoming atmosphere…where all pupils are valued" Ofsted April 2014. We are close to the city's famous Jewellery Quarter and within walking distance of everything that the city has to offer: Symphony Hall, Sea Life Centre, Think Tank, St Chad's Cathedral and the Library of Birmingham.
The school is federated with St Patrick's Catholic Primary School, which is very close by and we belong to the same parish of St Patrick's Catholic Church in the Archdiocese of Birmingham. As a Catholic school with Christ at our centre we are able to move forward in our mission to inspire all our learners to grow and achieve. This in turn allows our pupils to follow our school motto and 'Let their little lights shine'. We include all members of our community as life-long learners in this aim providing the best for our pupils by developing strong CPD provision for our staff.
---
St Francis' Catholic Primary School
Headteacher: Mr Humphreys
Nursery Road
Handsworth
Birmingham
B19 1PH
0121 464 5072
St. Francis' Catholic Primary is a two-form entry school, with 420 children on roll, situated between Handsworth and Lozells. The school is highly valued by the very diverse community which it serves, and is a place of sanctuary for our children. Over 60% of our children are eligible for Pupil Premium, which is indicative of socio-economic deprivation in the area. The school is equally proud of good standards and strong academic progress made by our children and the excellent pastoral care offered to families.
The school was last inspected in May 2015, when it was rated good in all judgements. Our Diocesan RE Ofsted in February 2017 also judged the school to be good, but our mission and outreach work, as well as our all-embracing Catholic ethos (25% of our children are Catholic) led to a judgement that the Catholic Life of the school is outstanding.
---
St Joseph's Catholic Primary School
Headteacher: Mrs Trevis-Treadwell
Rocky Lane
Nechells
Birmingham
B7 5HA
0121 464 8140
St. Joseph's Catholic Primary School is a one form entry school in Nechells. It is very heavily oversubscribed and caters for children of many different religions, creeds and cultures. This enables the children to recognise that we are all unique but that we are all members of God's family and made in the image and likeness of Jesus. Approximately 70% of the children are Christian, with about a third Catholic.
Ofsted recognised the school as Good with many Outstanding features and commented; 'The school's Catholic ethos underpins its work. Leaders and governors are committed to ensuring that everyone is helped and encouraged to achieve their very best. The positive culture of the school is reflected in the exemplary behaviour of the children. St Joseph's School is focused on developing the whole child.' (Ofsted November 2016) The school was judged to be Outstanding in the latest Diocesan RE Inspection in November 2012. Children make better than expected progress at St. Joseph's, with disadvantaged children achieving and progressing as well as other children. 'The most able pupils, including those that are disadvantaged, make strong rates of progress over time'. (Ofsted November 2016)
---
St Patrick's Catholic Primary School
Executive Headteacher: Mrs O'Friel
Dudley Road
Ladywood
Birmingham
B18 7QW
0121 247 3947
St Patrick's Catholic Primary school is situated on the Dudley Road opposite the City Hospital. As a Catholic school in the centre of Birmingham we serve a diverse community and our children come from a range of ethnic heritages with over 60% of them being baptised Catholics. Birmingham City centre is easily accessible on foot using the nearby network of canals. The school is federated with St Edmund's Catholic Primary School, which is very close by and we belong to the same parish of St Patrick's Catholic Church in the Archdiocese of Birmingham. Our school has a strong 'family feel' and this is reflected in the good relationships that exist between governors, parents, staff and pupils.
"Pupils consistently demonstrate that they are proud of their school and respect staff and each other. This is also clear in the pride pupils have in the appearance of their uniform and the neat presentation of work in their books." OFSTED June 2014 We encourage new ideas and expertise to be shared in our team and positively encourage a 'have a go' culture. We want to offer the best for our pupils to give them every opportunity to leave us as confident and optimistic young people.
---
St Teresa's Catholic Primary School
Headteacher: Mr Corkery
Butler's Road
Handsworth Wood
Birmingham
B20 2NY
0121 554 9581
St. Teresa's Catholic Primary School is a one from entry school in Handsworth Wood. This very heavily oversubscribed school is 'home' to children from a range of religious and cultural backgrounds bringing many benefits to our school community. Just under half of the children attending the school are baptised Catholics.
The school was judged to be outstanding by Ofsted in September 2012 St. Teresa's is a successful school where pupils ' achieve exceptionally well and make rapid progress' (Ofsted September 2012). The school was also judged to be outstanding by the Diocesan Education Service for the R.E. Inspection of November 2012. The school's motto 'Little flowers growing and giving glory to God' reflects the example set by our patron saint.
---
St Vincent's Catholic Primary School
Headteacher: Mrs Tibbits
Vauxhall Grove
Vauxhall
Birmingham
B7 4HP
0121 675 2359
St Vincent's is a Catholic Voluntary Aided school for children aged between three and eleven years. It is situated in Nechells near to Millennium Point and the city centre. We are part of the Catholic community of St. Vincent's Parish, serving as a witness to the Catholic Faith in Our Lord Jesus Christ.
St Vincent's is a school that inspires – a place which is welcoming and shows that we value all who learn here; an attractive, stimulating, environment which fills us with wonder; but a calm, safe shelter in times of challenge in our lives. Our children are well behaved and take ownership of their actions. They are happy, feeling that this is the right place for them, wanting to come back each day. They make confident, positive choices, feeling secure and trusting enough to take risks. They feel good about themselves and treat others as they would like to be treated, listening to each other and showing respect. They never give up, always striving to be more and they resolve their conflicts peaceably by reflection and discussion.
Children have many opportunities for choice. We recognise their unique qualities, praising and encouraging them to reach out for greatness. They are curious and hungry to learn. They care about other people; cherish their diversity and refuse to accept injustice, always striving to use their voice to make a difference in the world. We nurture their abilities and enthusiasm, making them ready for the future. They leave us with good memories, strong in the basic skills, high in self esteem and able to cope with any negative experience life may impose. Everyone feels that they belong. Parents feel appreciated, part of our community, keen to be involved in the life of the school, supporting our aims for learning and behaviour. Staff and parents are able to talk openly, honestly and with respect to each other. Staff are positive role models for children, making time and space to talk to them individually. They show genuine affection and care for their pupils. Everyone is treated fairly.
---
Sacred Heart Catholic Primary School
Headteacher: Mrs Fahy
Earlsbury Gardens
Birchfield
Birmingham
B20 3AE
enquiry@sacredheart.bham.sch.uk
Sacred Heart is a voluntary aided mixed Catholic Primary School in Perry Barr. It caters for approximately 210 children ages 4+ to 11 years. At Sacred Heart Catholic Primary School, we are a caring community which aims to promote a respect and understanding of all individuals through a sharing of our Catholic Faith and the love of Christ. All children will feel a sense of worth knowing that they are valued and loved by God in their uniqueness.
We seek to create a learning environment which enables our children to succeed to their best ability and which recognises and values their variety of talents. We acknowledge the importance of our role in support for the family, the parish and the wider community.
---
The Oratory Primary School
Headteacher: Mrs Dickinson
Oliver Road
Ladywood
Birmingham
B16 9ER
0121 454 0600
Our School is a vibrant diverse community located in Ladywood, Birmingham. In March 2014, the school was rated 'Good' by Ofsted and in June 2014 was rated 'Outstanding' by a Section 48, Faith School Inspection. Every aspect of school life is founded on Gospel Values. Our Mission Statement, "Shine as to be a light to others", is inspired by the writing and teaching of Blessed John Henry Newman, an advocate of personalised learning. We are committed to providing a safe, nurturing and happy immersive learning environment, based upon the living tradition of the Church, drawing continually upon current educational research.
Our School prepares children to meet the opportunities and challenges of life in contemporary Britain through an innovative curriculum that is tailored to meet the needs of all. We aim to help our children discover and develop their God-given talents and to encourage them to grow in responsibility for themselves and for others. A community of lifelong learners, we work in close partnership with: our families, the Fathers and Brothers of the Oratory, our local parish, the local and wider community, and external consultants.
"An outstanding aspect of the Catholic Life of the School is the home, school and parish partnership. The dedication and daily commitment of staff at all levels shows the children how to 'shine at to be a light to others." June 2014, Section 48 Inspection. Ours is a strong culture of unconditional support for one another's learning, where all listen respectfully and welcome constructive criticism and challenge. We work together to enable all to fulfil their spiritual, academic, emotional and social potential. We are a team, and together we make a difference.
---
St John Wall Catholic School
Headteacher: Mrs Marston
Oxhill Road
Handsworth
Birmingham
B21 8HH
0121 554 1825
Saint John Wall Catholic School is an 11 – 16 secondary school with 120 pupils in each year group. We are 'A Catholic School for All' and during the Ofsted April 2017 inspection, where we were graded Good, Ofsted recognised that we 'value diversity and celebrate difference'.
Our Mission statement is 'to educate each and every unique child in our care to hear and respond to what God calls them to be'. We offer a broad and balanced curriculum and keep class sizes to an average of 20 per teacher in order to best support our learners, many of whom speak English as an additional language. Progress 8 for 2015 – 2016 was broadly average and 41% of pupils gained both English and Maths at grade C or better.